Metacognition, Borderline Pathology and Psychotherapeutic Change: A Single-Case Study
Abstract
The aim of this study is to analyze whether: (a) a specific type of metacognitive deficit is present in a patient with Borderline Personality Disorder; (b) a metacognitive improvement can be detected during the psychotherapy treatment; (c) if this improvement can be indicative of the effectiveness of psychotherapy itself. A single case study has been conducted; metacognitive deficits have been measured with the Metacognition Assessment Scale (MAS). In line with the hypothesis, the results show a global and progressive improvement of meta-cognitive functions. We conclude in agreement with the current literature, the existence of a major deficit in Differentiation and Integration subfunctions (belonging to Self-reflexivity), compared to Characterization and Relation between variables subfunctions (belonging to Metacognitive monitoring).
Downloads
Download data is not yet available.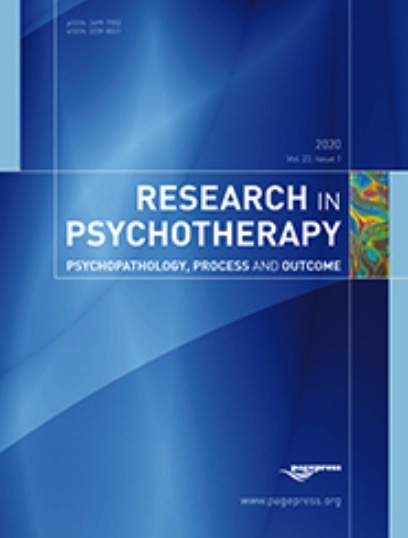 Keywords:
Metacognition, Borderline, Personality Disorder, Single Case
Statistics
Abstract views: 549

PDF: 463

Share it
PlumX Metrics
PlumX Metrics provide insights into the ways people interact with individual pieces of research output (articles, conference proceedings, book chapters, and many more) in the online environment. Examples include, when research is mentioned in the news or is tweeted about. Collectively known as PlumX Metrics, these metrics are divided into five categories to help make sense of the huge amounts of data involved and to enable analysis by comparing like with like.
How to Cite
Caviglia, G., Semerari, A., & Perrella, R. (2014). Metacognition, Borderline Pathology and Psychotherapeutic Change: A Single-Case Study. Research in Psychotherapy: Psychopathology, Process and Outcome, 16(2), 102-108. https://doi.org/10.4081/ripppo.2013.126
Copyright (c) 2014 Giorgio Caviglia, Antonio Semerari, Raffaella Perrella
This work is licensed under a Creative Commons Attribution-NonCommercial 4.0 International License.