Metacognition, Borderline Pathology and Psychotherapeutic Change: A Single-Case Study
Abstract
The aim of this study is to analyze whether: (a) a specific type of metacognitive deficit is present in a patient with Borderline Personality Disorder; (b) a metacognitive improvement can be detected during the psychotherapy treatment; (c) if this improvement can be indicative of the effectiveness of psychotherapy itself. A single case study has been conducted; metacognitive deficits have been measured with the Metacognition Assessment Scale (MAS). In line with the hypothesis, the results show a global and progressive improvement of meta-cognitive functions. We conclude in agreement with the current literature, the existence of a major deficit in Differentiation and Integration subfunctions (belonging to Self-reflexivity), compared to Characterization and Relation between variables subfunctions (belonging to Metacognitive monitoring).
Downloads
Download data is not yet available.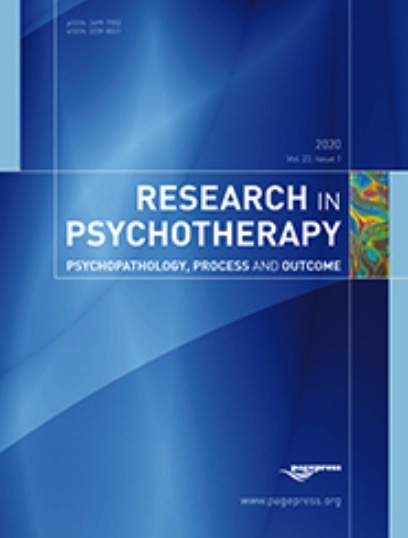 Info
Keywords:
Metacognition, Borderline, Personality Disorder, Single Case
Statistics
Abstract views:

721



PDF:

645
How to Cite
Perrella, R., Semerari, A., Scafuto, F., & Caviglia, G. (2014). Metacognition, Borderline Pathology and Psychotherapeutic Change: A Single-Case Study. Research in Psychotherapy: Psychopathology, Process and Outcome, 16(2), 102-108. https://doi.org/10.4081/ripppo.2013.126
Copyright (c) 2014 Giorgio Caviglia, Antonio Semerari, Raffaella Perrella
This work is licensed under a Creative Commons Attribution-NonCommercial 4.0 International License.