Therapeutic Cycles and Referential Activity in the Analysis of the Therapeutic Process
Abstract
The present study was designed to show the usefulness of a process analysis based on a joint use of two computerized methods – Mergenthaler's Therapeutic Cycle Model (TCM) and Bucci's Italian Weighted Referential Activity Dictionary (IWRAD). This analysis focused on the transcripts of six sessions from the first eight months of a three-year, face-to-face psychodynamic psychotherapy. Both qualitative and quantita-tive analyses were conducted. Results showed the presence of specific indicators of a good outcome, according to the two approaches, such as the patient's ability to link re-flective processes and felt emotions, the occurrence of referential cycles, and the pres-ence of organized and coherent narratives.
Downloads
Download data is not yet available.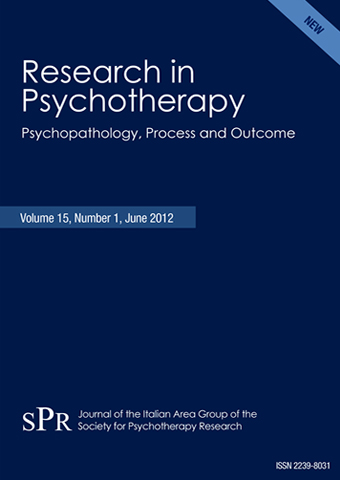 Info
Keywords:
process analysis, Therapeutic Cycle Model, Referential Activity
Statistics
Abstract views:

548



PDF:

603
How to Cite
Lo Verde, R., Sarracino, D., & Vigorelli, M. (2012). Therapeutic Cycles and Referential Activity in the Analysis of the Therapeutic Process. Research in Psychotherapy: Psychopathology, Process and Outcome, 15(1), 22-31. https://doi.org/10.4081/ripppo.2012.99
Copyright (c) 2012 Rossella Lo Verde, Diego Sarracino, Marta Vigorelli
This work is licensed under a Creative Commons Attribution-NonCommercial 4.0 International License.