Therapeutic Cycles and Referential Activity in the Analysis of the Therapeutic Process
Abstract
The present study was designed to show the usefulness of a process analysis based on a joint use of two computerized methods – Mergenthaler's Therapeutic Cycle Model (TCM) and Bucci's Italian Weighted Referential Activity Dictionary (IWRAD). This analysis focused on the transcripts of six sessions from the first eight months of a three-year, face-to-face psychodynamic psychotherapy. Both qualitative and quantita-tive analyses were conducted. Results showed the presence of specific indicators of a good outcome, according to the two approaches, such as the patient's ability to link re-flective processes and felt emotions, the occurrence of referential cycles, and the pres-ence of organized and coherent narratives.
Downloads
Download data is not yet available.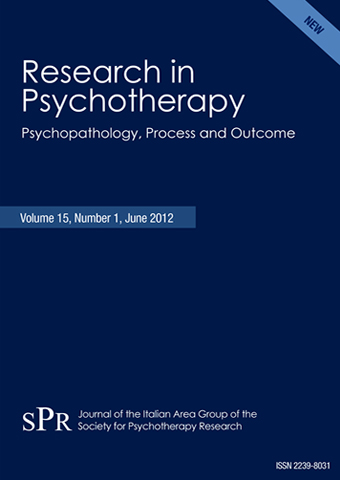 Keywords:
process analysis, Therapeutic Cycle Model, Referential Activity
Statistics
Abstract views: 375

PDF: 509

Share it
PlumX Metrics
PlumX Metrics provide insights into the ways people interact with individual pieces of research output (articles, conference proceedings, book chapters, and many more) in the online environment. Examples include, when research is mentioned in the news or is tweeted about. Collectively known as PlumX Metrics, these metrics are divided into five categories to help make sense of the huge amounts of data involved and to enable analysis by comparing like with like.
How to Cite
Lo Verde, R., Sarracino, D., & Vigorelli, M. (2012). Therapeutic Cycles and Referential Activity in the Analysis of the Therapeutic Process. Research in Psychotherapy: Psychopathology, Process and Outcome, 15(1), 22-31. https://doi.org/10.4081/ripppo.2012.99
Copyright (c) 2012 Rossella Lo Verde, Diego Sarracino, Marta Vigorelli
This work is licensed under a Creative Commons Attribution-NonCommercial 4.0 International License.