Clinician Emotional Response Toward Narcissistic Patients: A Preliminary Report
Annalisa Tanzilli | annalisa.tanzilli@uniroma1.it

Department of Dynamic and Clinical Psychology, Italy.

Antonello Colli

Laura Muzi

Vittorio Lingiardi
Abstract
Patients with narcissistic personality disorder are among the most difficult to treat in therapy, especially for their strong resistance to treatment and several difficulties in establishing a therapeutic relationship characterized by intimacy, safety, and trust. In particular, therapists' emotional responses to these patients can be particularly intense and frustrating, as reported in the clinical literature but rarely investigated empirically.

The aims of this preliminary study were: 1) to examine the associations between patients' narcissistic personality disorder and distinct therapists' countertransference patterns; and 2) to verify whether these clinicians' emotional reactions were influenced by their theoretical orientation (as well as gender and age).

A national sample of psychiatrists and clinical psychologists (N = 250) completed the Therapist Response Questionnaire (TRQ) to identify patterns of therapist emotional response, and the Shedler-Westen Assessment Procedure-200 (SWAP-200) to assess personality disorder and level of psychological functioning in a patient currently in their care and with whom they had worked for a minimum of eight sessions and a maximum of 6 months (one session per week).

From the complete therapist sample, we identified a subgroup (N = 35) of patients with narcissistic personality disorder, and we found that this personality pathology was positively associated with criticized/mistreated and disengaged countertransference, but negatively associated with positive therapist response. Moreover, our results confirmed that the relationship between patients' narcissistic personality disorder and therapists' emotional responses was not dependent on clinicians' theoretical approach (as well as their age and gender).

These findings are consistent with clinical observations, as well as some empirical contributions, and have meaningful implications for clinical practice of patients suffering from this challenging pathology.
Downloads
Download data is not yet available.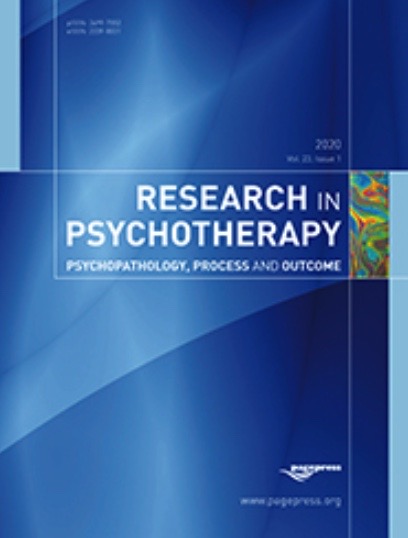 Keywords:
therapist emotional response, narcissistic personality disorder, TRQ, SWAP-200, psychotherapy
Statistics
Abstract views: 951

PDF: 1266

Share it
PlumX Metrics
PlumX Metrics provide insights into the ways people interact with individual pieces of research output (articles, conference proceedings, book chapters, and many more) in the online environment. Examples include, when research is mentioned in the news or is tweeted about. Collectively known as PlumX Metrics, these metrics are divided into five categories to help make sense of the huge amounts of data involved and to enable analysis by comparing like with like.
How to Cite
Tanzilli, A., Colli, A., Muzi, L., & Lingiardi, V. (2015). Clinician Emotional Response Toward Narcissistic Patients: A Preliminary Report. Research in Psychotherapy: Psychopathology, Process and Outcome, 18(1). https://doi.org/10.4081/ripppo.2015.174
Copyright (c) 2015 Annalisa Tanzilli, Antonello Colli, Laura Muzi, Vittorio Lingiardi
This work is licensed under a Creative Commons Attribution-NonCommercial 4.0 International License.