When Therapists Do Not Know What to Do: Informal Types of Eclecticism in Psychotherapy
Diego Romaioli | diego.romaioli@univr.it

Department of Philosophy, Pedagogy and Psychology, University of Verona, Italy.

Elena Faccio

Department of Philosophy, Sociology, Education and Ap-plied Psychology, University of Padua, Italy.
Abstract
Eclecticism usually arises from the perception of one's own theoretical model as being inadequate, which may be the case in situations of therapeutic stalemate. In need of new strategies, therapists criticize their own approach and take eclectic knowledge onboard. The goal of this qualitative study is to explore basic elements of this informal knowledge, with reference to the theory of social representations and points of view. Episodic interviews were conducted with 40 therapists. Results confirmed that clinical knowledge often turns eclectic, showing different styles of reorganization; a so-cial co-evolution model will be pointed out to explain this personalization of one's own approach. The results achieved might contribute to the amelioration of the therapeutic awareness of one's own knowledge structure and the use of eclecticism in carrying out therapies, leading to significant benefit in treatment effectiveness.
Downloads
Download data is not yet available.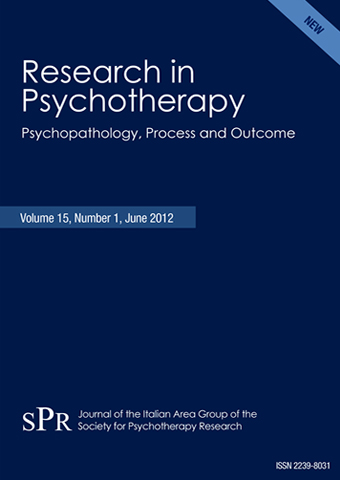 Info
Keywords:
psychotherapy, eclecticism, social representations, points of view, quali-tative methodology
Statistics
Abstract views:

793



PDF:

1143
How to Cite
Romaioli, D., & Faccio, E. (2012). When Therapists Do Not Know What to Do: Informal Types of Eclecticism in Psychotherapy. Research in Psychotherapy: Psychopathology, Process and Outcome, 15(1), 10-21. https://doi.org/10.4081/ripppo.2012.92
Copyright (c) 2012 Diego Romaioli, Elena Faccio
This work is licensed under a Creative Commons Attribution-NonCommercial 4.0 International License.