The Topics of Psychotherapy Research: An Analysis Based on Keywords
Abstract
A content analysis of the representative Journals in the field of psychothera-py research has been performed. The analysis focused on the articles' keywords. We ana-lyzed 7,086 works published in 17 Journals, in the period 2005-2011, using a two-step multidimensional procedure. Firstly, a cluster analysis led to the extrapolation of 4 groups of keywords, each of them interpreted as the marker of a topic active within the literature. Secondly, a factorial analysis was carried out in order to picture the thematic orientation of the most representative Journals, namely the main topics they focus on and how they differ from each other in this respect.
Downloads
Download data is not yet available.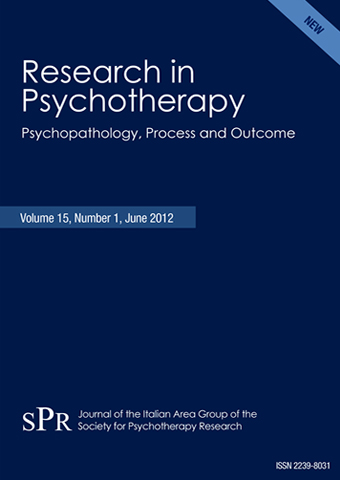 Keywords:
psychotherapy research, content analysis, key words, topics
Statistics
Abstract views: 423

PDF: 776

Share it
PlumX Metrics
PlumX Metrics provide insights into the ways people interact with individual pieces of research output (articles, conference proceedings, book chapters, and many more) in the online environment. Examples include, when research is mentioned in the news or is tweeted about. Collectively known as PlumX Metrics, these metrics are divided into five categories to help make sense of the huge amounts of data involved and to enable analysis by comparing like with like.
How to Cite
Gennaro, A., Venuleo, C., Auletta, A., & Salvatore, S. (2012). The Topics of Psychotherapy Research: An Analysis Based on Keywords. Research in Psychotherapy: Psychopathology, Process and Outcome, 15(1), 1-9. https://doi.org/10.4081/ripppo.2012.117
Copyright (c) 2012 Alessandro Gennaro, Claudia Venuleo, Andrea F. Auletta, Sergio Salvatore
This work is licensed under a Creative Commons Attribution-NonCommercial 4.0 International License.